Life always seems simpler when you were a kid. I have loved something from every decade in terms of fashion, culture or music.. My least favourite decade for some reason was the 50's till I discovered the counter cultures of that time. For me the 30's were a transition from 20's to the 40's. The economic slump had brought in a lot of restraint in clothing as well. An element of rebel and/or free spirit is all that is needed to please me. Here are some photos that represent that.
women boxing on the beach in 1920's
Pin up style with a twist of blue,reminiscent of 40's Hollywood glamour
1947 Dior Paris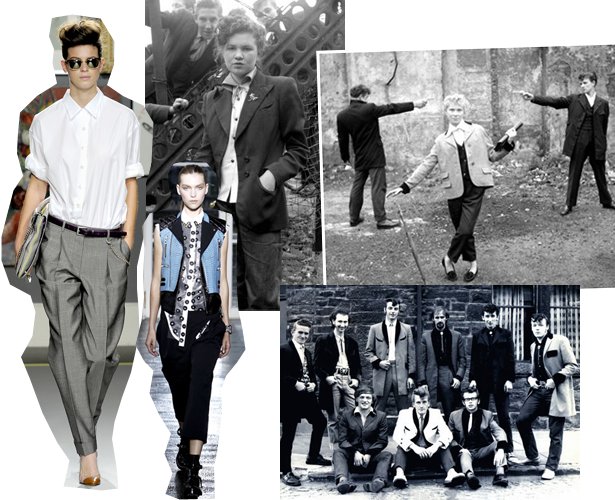 Paul Smith and Balenciaga did their take on the 1950's teddy boy/girl subculture
60's-time for the sexual revolution-twiggy-gotta try this soon,have been thinking for years
1970's-80's glam rock icon David Bowie in an androgynous look..it was different from the androgyny we see today
Love the vintage-y 90's feel
The horror punk inspired dark vibe is so cool here
Right now there's a major revival going on when it comes to our clothes. The kind of music we listen to, the shows and movies we watch influence us in a major way. What you wear is the easiest way to let someone know who you are or at least give them a glimpse of that. I was too busy running around in my sneakers and flat platforms and raising extra hell for my mom throughout the 90's and 2000's (Y2k, that didn't stick..it sounded odd to me then also).. The anti fashion era is what I grew up seeing, loose grungy attire and attitude is what I was mostly around. And the TV shows back then were so awesome. Now most of them are unwatchable. I also wore these rubber sandals with ankle straps and loved them to pieces.
Which is your favourite decade and why?
And here's a parting photo..found it funny..
bloggers - what people think you do